Earlier in the year, Nail Nerd hosted a giveaway, with one of the prizes being a surprise bag of polishes. You all know what's coming next… that's right! I won! I received my prize a little while ago but haven't had a chance to blog about it until now. Nail Nerd was awesome enough to include some non-polish goodies too. Click through to see what I won!
Nail Nerd lives in New Orleans (I'm sorry but I don't think she states her name on her blog anywhere and even though I know what it is thanks to the return address on the parcel I'm going to respect her privacy and just call her that! Just know it's with no disrespect that I do so) and at the time I won her giveaway, Mardi Gras was kicking off. I got some cool Mardi Gras/New Orleans themed stuff…
… like these neat can holder/coolers…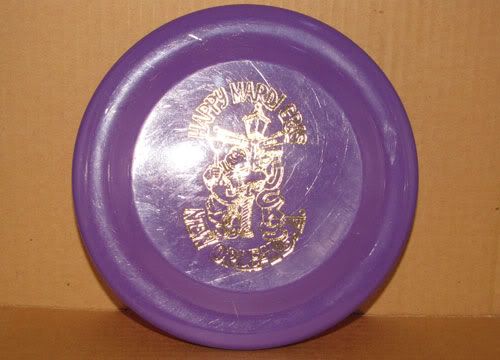 … this frisbee (it says 'Happy Mardi Gras, New Orleans' on it, if you can't see because of the camera flash)…
… this Mardi Gras CD (again, fail with the flash)…
… a Fleur de Lis air freshner and a BBQ shrimp sauce mix (so excited to try out this sauce! I LOVE seafood)…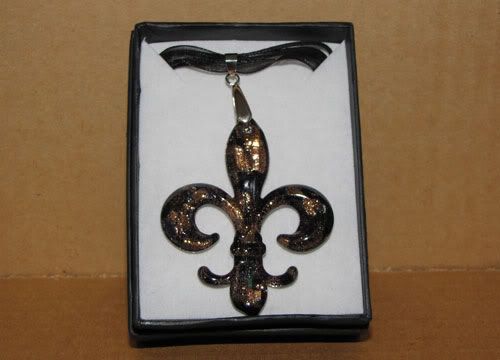 … and this absolutely gorgeous Fleur de Lis necklace. The pendant is made of glass with a foil-like backing to it.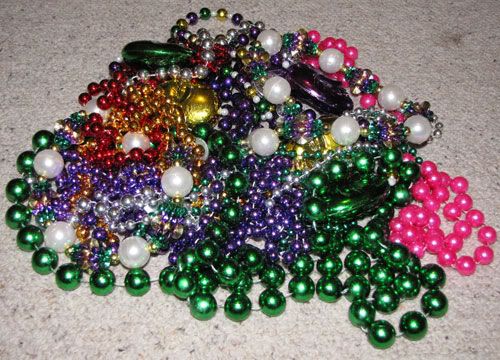 I also got a range of Mardi Gras beads! Apparently these are thrown out at the parades.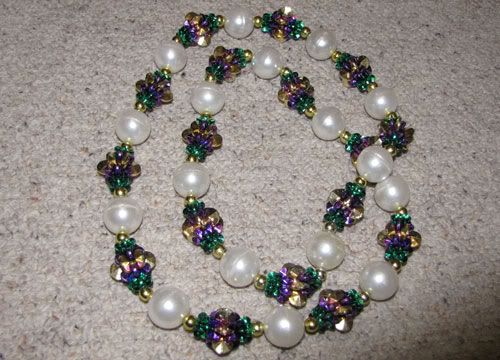 This is my favourite one. It's got white pearl like beads, and in between, these intricate beads that kind of look like stars, in green, gold, and purple.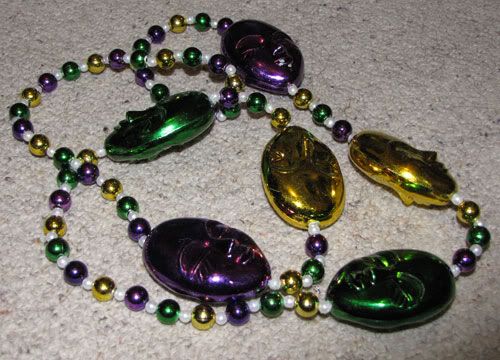 This one is also really cool. I love the faces!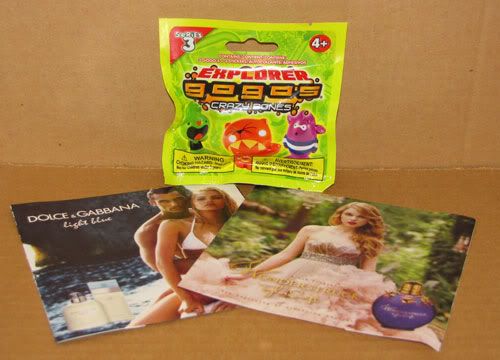 I also got some Crazy Bones and two perfume samples. The Crazy Bones are such a blast from the past - I remember being nuts over these in the early 2000s. I'm sure I drove my parents mad with my incessant need to collect every last one. They were forever buying me packets of the things!
Now, I guess you want to see the polishes?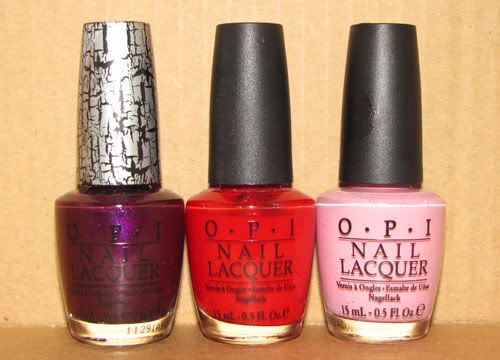 OPI nail polish in Super Bass Shatter, The Thrill of Brazil, and Pink Friday
I'm so lucky to have received two polishes from the recent OPI Nicki Minaj collection! These were both on my list to purchase.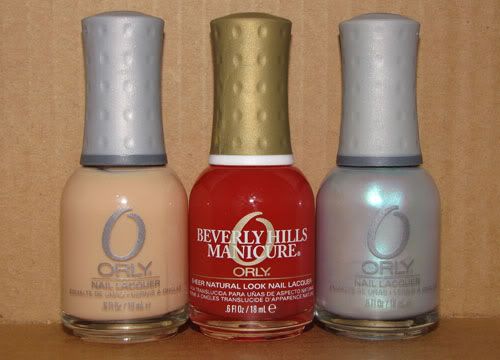 Orly nail polish in Dream Boat, Beverly Hills Plum, and Rock Candy
I'm really interested to try out Rock Candy. I'd never heard of it before receiving it, but I wonder why not! It's stunning in the bottle!
Barielle nail polish in Swizzle Stix, and Jess' Champagne Toast; Barry M nail polish in Grey; Essie nail polish in Nutmeg
Look at that - my first Barry M! I'm also oddly drawn to the Essie - it's certainly not a colour I would have thought to buy on my own, but now that I have it in my hot little hands, I really like it. The photo doesn't show it but it's actually shimmery! It will be great for autumn.
Rimmel nail polish in Burgundy Flirt; Color Club nail polish in Peppermint Twist; Butter London nail polish in All Hail The Queen
When I unwrapped my parcel, I was so shocked (in a good way) to receive a Butter London polish. These retail for NZ$35 here (that's about US$26)! I know that's not as much as they sell for in the US, but still. I only have one other BL and that was very recently acquired. I also love the Color Club. I have no similar pink in my collection and this particular one is Rebecca's favourite pink, so you know it's gotta be good.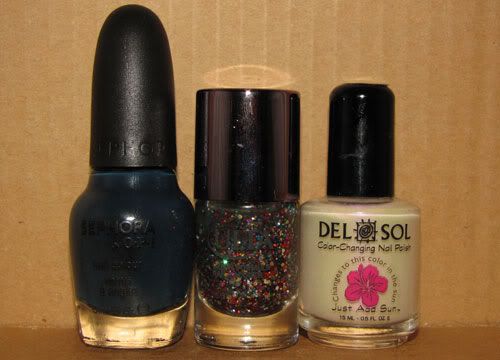 Sephora by OPI nail polish in My Personal Serpent; Ulta nail polish in Pinata Yada Yada; Del Sol nail polish in Pretty in Pink
I felt like I had won the lottery with that Ulta. It's such a holy grail polish, and now it's mine! Yay! Also, see that kind of funny looking white one there? Yeah, that is a colour changing polish. Coolest thing I have ever seen. If you wear it in the sun, it changes to this awesome pink. I was so skeptical when I unwrapped it - I thought, hmmm, yeah, OK, novel idea but how well will thisreallywork? Then I tested it out and my goodness, the change was instant and drastic. Such an awesome idea for a polish. I wish I could buy all of these.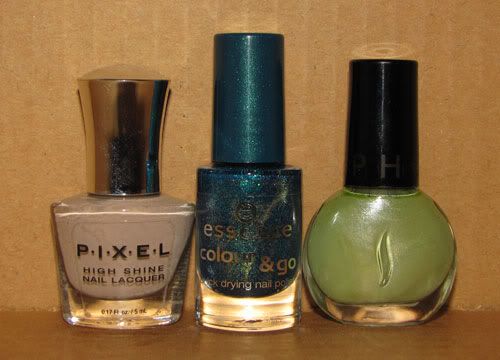 Pixel nail polish in Thigh Hi; Essence nail polish in Choose Me; Sephora nail polish in Jungle Playground
I was so excited when I unwrapped the little Essence Color & Go. Choose Me! Another HG polish. In the same way that I'm drawn to the brown Essie, I'm also drawn to this little Pixel polish. I've never been a fan of nudes but maybe this one will change my mind.
Phew, that was a huge post! I hope you've managed to get to the end. A giant thank you goes out to Nail Nerd for the giveaway. I love everything!