Oh my goodness - a post! It sure has been a while. In between working, university, my birthday, and the onset of winter (rain, wind, and cold, boo!) I haven't had the time or energy for blogging. But with the end of the semester in sight, things are looking up! Today I have a quick NOTD post for you.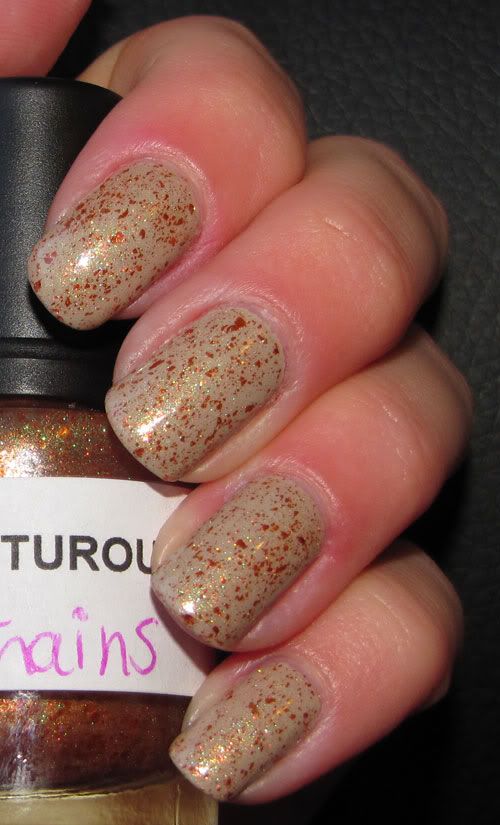 This is two coats of OPI Did You Ear About Van Gogh as a base, with one coat of Nail-Venturous Rustic Remains over the top. Nail-Venturous Lacquers are the baby of Amy who blogs at I'm Feeling Nail-Venturous. She's probably most well known for her polish named Floam - which you MUST have heard of by now, if not, you need to get yourself out from under that rock! Amy's polishes can be purchased at her Etsy store, and Ninja Polish also stocks a small range of the popular shades. Unfortunately I read somewhere that Rustic Remains is currently on a hiatus as Amy was having issues sourcing the flakies. Hopefully it comes back soon!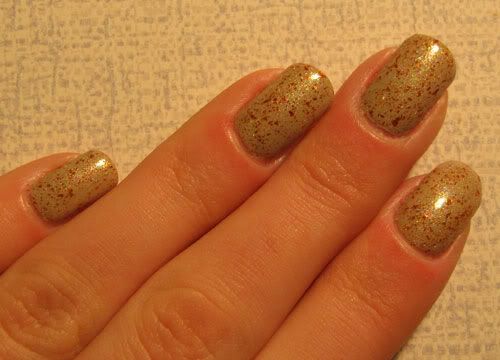 While the lighting in these photos is horrible, they were the best pics to show off the gorgeous shimmer in Rustic Remains. Not only does this polish have bronzey-brown flakies in irregular sizes, but this awesome green and yellow (gold?) sparkle. It's very obvious in real life, even under artificial lighting.
I've only recently come to accept browns as being 'pretty'. Before, I would pass them up for bright blues, or gem-toned greens and purples. But I have a new appreciation for the colour now, and not only in polish, but in make-up and clothes too. I'm so glad I bought a bottle of Rustic Remains while I had the chance. It is a seriously beautiful polish, and one that is highly underrated! It's very, very unique. I hope Amy finds a way around the flakie issue and sells more of this in the future.