Sorry to leave you all hanging again! I have a million reasons why I haven't been posting. It's cold. It's wet. There's never any sun. My sleep patterns are out of whack. I've been busy with uni. I've been busy with work. Our internet is slow and temperamental. I'm tired. I'm lazy!
Basically, I've been spending more time in my pyjamas than is necessary. They are too warm and comfortable to resist! The university semester is over, although I still have a few essays to finish. I do have a few extra shifts at work that will knock me out of the real world for at least a few days (read, potential 12 hour nightshifts… stocktake how I loathe you!). So I will hopefully get back into a blogging routine soon, but no promises on when. In the meantime, here is some NOTD spam. These are all manicures I have worn in the last few weeks with the exception of one or two older ones I never posted. Enjoy!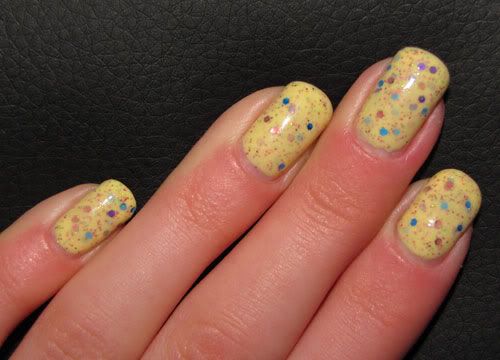 Candeo Colors Jellybean. This is three coats. Next time I will use a light yellow polish as a base, purely for the reason that the first coat here is wasted. You don't see any of the glitter through the other two coats. It's a waste of a pretty polish!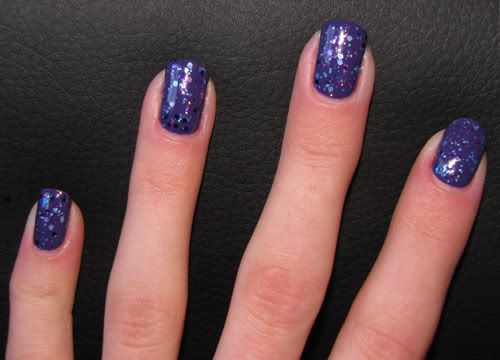 One coat of Candeo Colors Joker over two of China Glaze Grape Pop.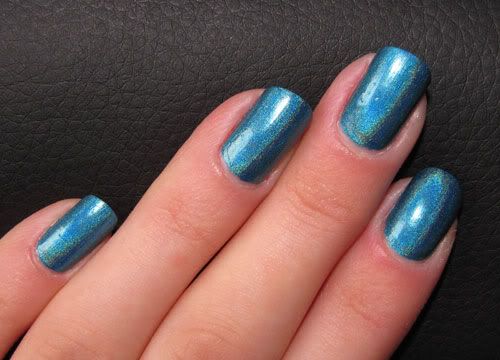 China Glaze DV8. The day I wore this, the sun failed me. The weather report the night before said it would be sunny. But no. Winter came instead.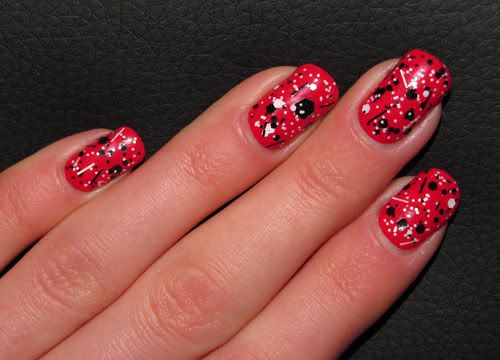 One coat of Cover Band Sticks n Stones over China Glaze Heli Yum. Oh my, Sticks n Stones is just… gorgeous. I want to layer it over ALL the polishes. I was never a fan of the microshimmer Lynnderella's Connect the Dots had, so I was never motivated to search out a bottle. Then, Sticks n Stones came out and it was everything I wanted CtD to be and more. Love it.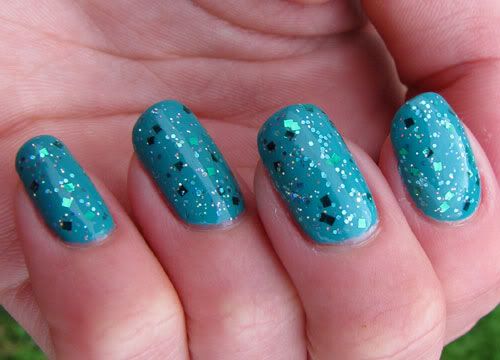 Essence Bella and Edward. This was one of my birthday manicures from the end of April. I wore this one on the Saturday. Unfortunately I didn't get a photo of my actual birthday mani, but it was gorgeous (Max Factor Fantasy Fire over Barry M Indigo). Bella and Edward was pretty too. Thanks to Caroline for sourcing me these!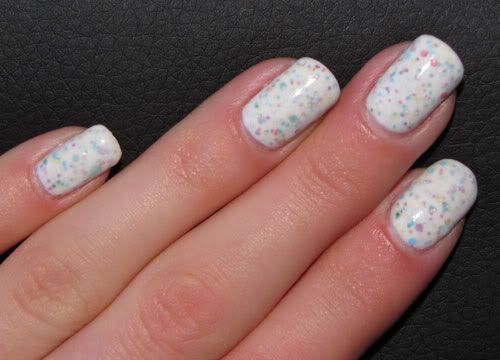 Essie Marshmallow and OPI Rainbow Connection. Ah, the obligatory jelly sandwich. I had wanted to do this for a long time after I saw a similar combination on Dori's blog (I think it was a 'thing' before her post though). A dear friend gifted me the bottle of Marshmallow.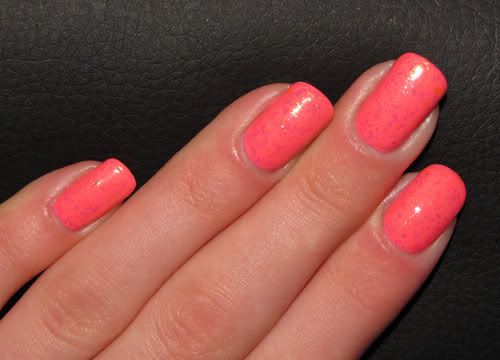 Essie Knockout Pout with Zoya Chloe. I think this was three coats of the Essie, from memory it dried matte and was a little sheer at two coats, but I could be mistaken. It definitely dried matte though, which surprised me.
After having so much fun with all of these pretty polishes, my nails finally gave up and I broke my middle finger nail really low down (yes, the middle finger on my photographed hand. Le sigh.). Now I have nubbins and they aren't much fun! I'm still sulking about it so I haven't taken any polish photos in a few days but maybe I'll swap to photographing my right hand for a while. Don't nail breaks suck?