Recently I discovered a new indie polish company called Feenix Polish. Feenix Polish is run by the friendly and ever-so-lovely Suzette, with help from her husband Mr. Feenix. Feenix Polish are new on the scene but are gaining more and more popularity as time goes by, and for good reason!
Today I'd like to show you Devil With The Blue Dress On. I was very disappointed that the majority of my photos of this gorgeous polish were blurry and not fit to post (a failing of my own photography skills, or lack of), but since at least one was OK, I couldn't not post - this polish is that good.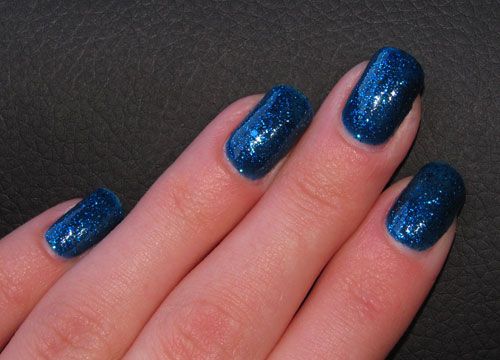 This is two coats of Devil with one coat of Seche Vite. I don't even know where to start with this beauty. It's blue glitter in a blue jelly base. There's at least two different sizes of glitter in here.
Application was absolutely flawless, I had no trouble at all. And it dries so fast. Like, Seche Vite speed fast, but without the Seche Vite. I know glitter/jelly polishes do dry a bit quicker than others but this was like glass within a few minutes. However, it wasn't like a matte polish where you get bald spots and dragging if you don't get your coat right on the first stroke. There's still time to even things out if you need to. It was also perfectly smooth even without topcoat. No scratchy hungry glitters here!
I will admit that when I applied my first coat of Devil, I was a bit concerned for opacity. Let me show you what I mean: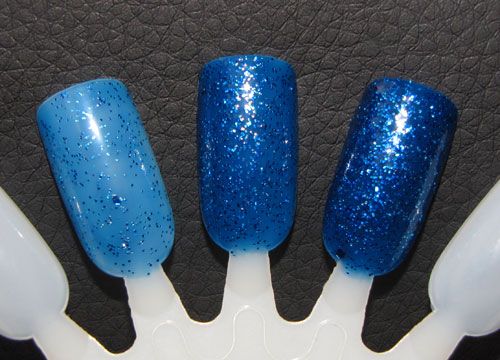 From left to right: one coat, two coats, and three coats.
But, as this photo also shows, my fears were completely unfounded and the second coat covered everything very well. Three coats is even better but I'm a two-coater girl through and through!
According to the Devil listing on Etsy, this polish is limited edition as Suzette bought her supplier out of this glitter mix when it was on clearance. So what does that mean? You should run to the Feenix Polish Etsy store to pick up a bottle while you can. This polish is absolutely incredible. It almost glows on your nails. It has instantly become one of my favourite blues as well as one of my favourite polishes of all time - which is saying something when my collection now numbers over 1000 bottles!
I also can't say enough good things about Suzette's customer service. Initially, I messaged her asking if I could pay for some polishes with my own Paypal account but have them shipped to a friend in the US, as at the time Feenix Polish did not ship internationally. Suzette was more than accommodating with my request, but in the end, I was able to have them shipped directly to me. My enquiry as well as similar questions from others around the world motivated her to take the big scary leap into international polish shipping, and I'm very pleased that she did! Mr. Feenix also deserves a mention here as his bubblewrapping and packing skills cannot be faulted. Feenix Polish is destined to be the next big thing, watch this space!