I have something very, very exciting to show you today! Some of you will already know what it is from my post title. That's right - I'm taking part in the piCture pOlish Blog Fest! I was so excited when I received the news that my blog had been selected to take part. I've never done anything like this before!
For those of you who don't know, the Blog Fest is an event where bloggers worldwide swatch and review polishes from piCture pOlish on a certain day. piCture pOlish themselves fund the event by providing all of the polishes for review. It's a complete surprise which shades you will receive! In the past, as far as I can tell, bloggers were provided with just one polish, but this year, piCture pOlish were generous enough to send out two. Let's have a look at which ones I was sent!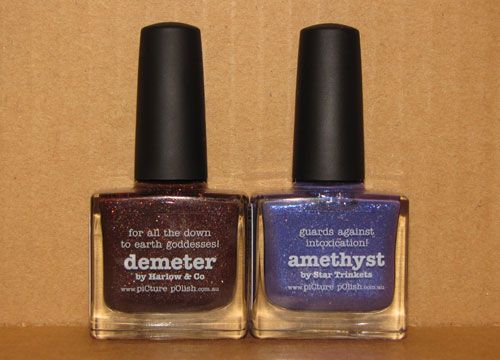 Click through to see swatches and to read my review!
The two polishes I received for review were Demeter and Amethyst. If you're familiar with piCture pOlish you might be wondering why you've never seen these two shades before. These are two new polishes, released as part of the Collaboration Collection. Demeter was jointly created by piCture pOlish and Katie from Harlow & Co (the Canadian stockist of the brand), while Amethyst was created by piCture pOlish alongside Susan from Star Trinkets (the Singaporean stockist). These polishes will be sold exclusively on their respective websites and also in the piCture pOlish online store.
Now, on to some photos! First, I'll show you Demeter.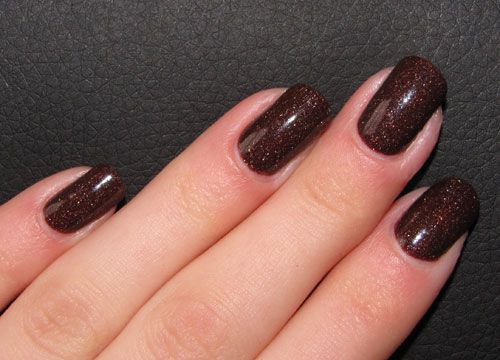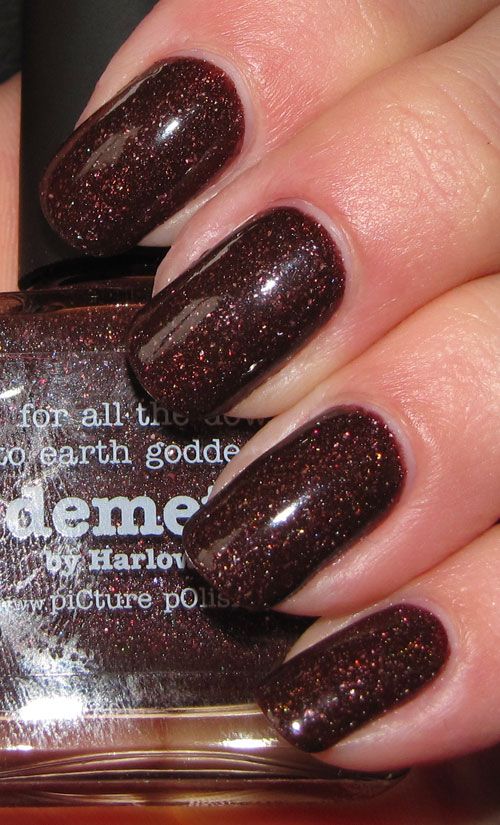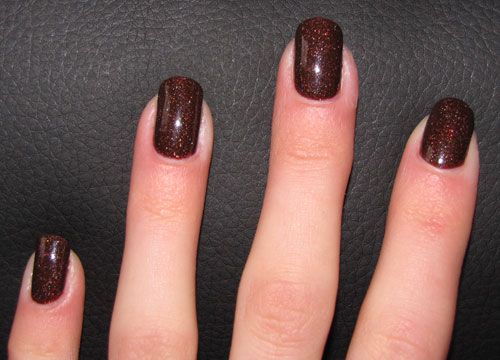 These photos all show two coats of polish with one coat of Seche Vite. They are also all taken with flash, as the weather here has been terrible for about ten days now, and since it's winter there is no sun! I do have one (mediocre) photo of Demeter in what little natural light we did have, however: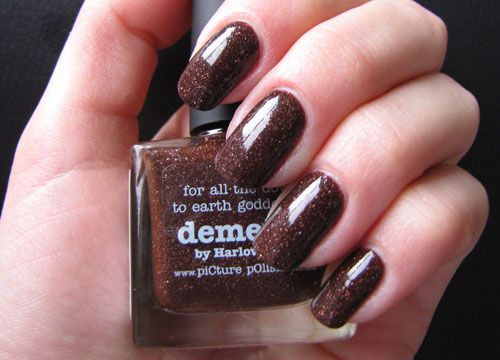 Demeter is a chocolate brown. I struggled a bit with naming the finish on this polish. The brown part is definitely a creme but then there's something else in it… it's not glitter, it's not flakies… the best word I could come up with was "particle-y". It's closer to flakies than glitter but doesn't quite get there. But that's not a bad thing! If you're familiar with Glitter Gal polishes, the finish is pretty much exactly the same as Spider Eggs (and I LOVE Spider Eggs):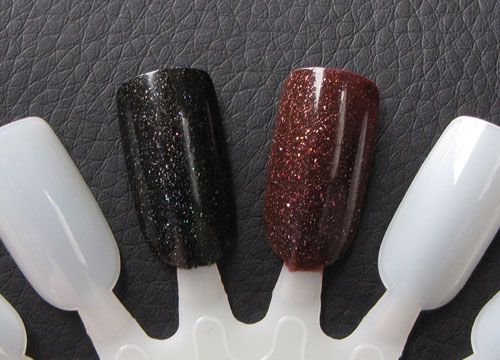 See? Particle-y. There are also holo "particles" in there! It's very scattered but it adds a nice textured sort of effect to it. I wish I was able to take some full sun photos for this post but remember, it's still winter here (lame).
Formula wise, Demeter was fantastic. I had no problems whatsoever. Two effortless coats. And those particles are smooth, so you can happily skip the topcoat if you want!
Next up, is Amethyst.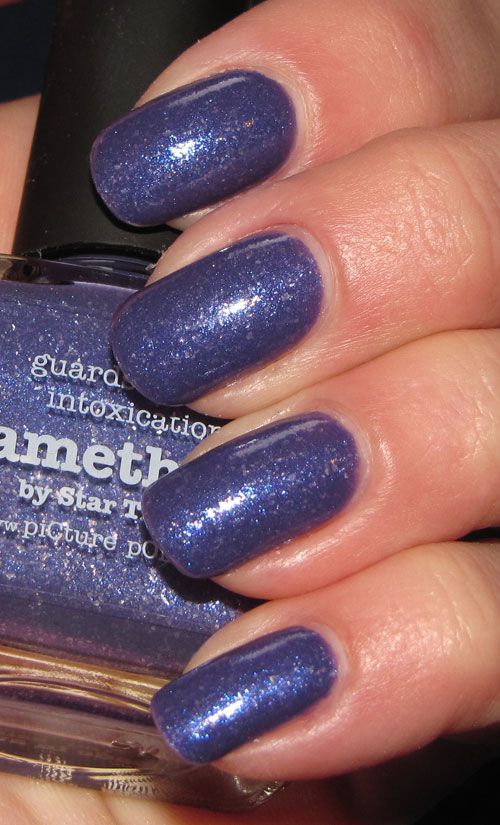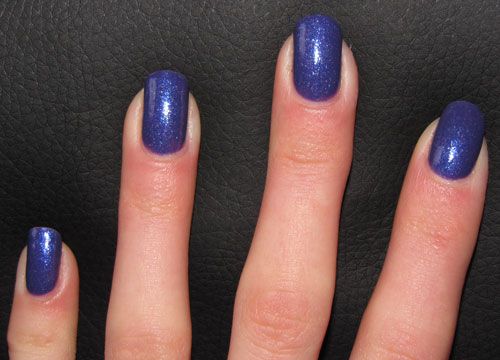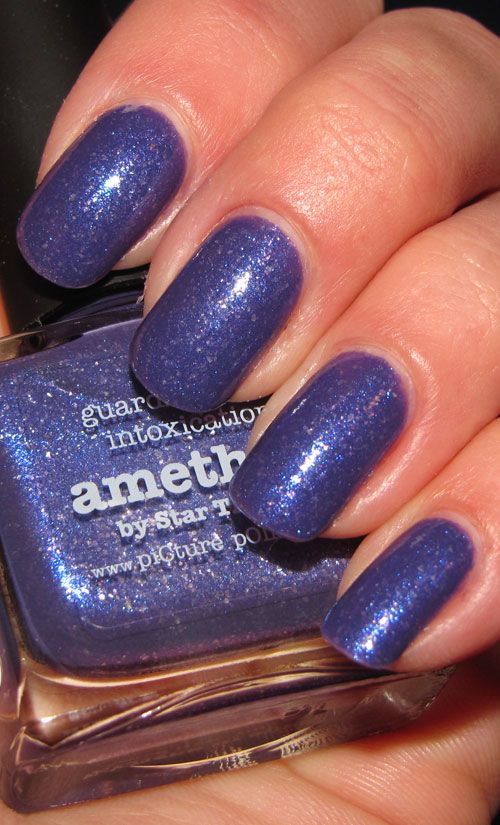 Amethyst, like Demeter, is shown here with two coats of polish and one of Seche Vite. Again, all photos are with flash, except for this one, which is natural light: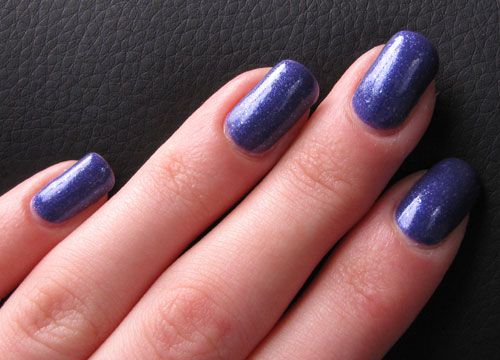 Amethyst is a pretty purple. It too is "particle-y", but unlike Demeter, where the bits are in a creme base, Amethyst has a shimmery base. I could mainly see flashes of blue but there is a teeny bit of fuchsia in there also. Amethyst is very similar to another piCture pOlish shade, Denim. Denim is on the left and Amethyst on the right: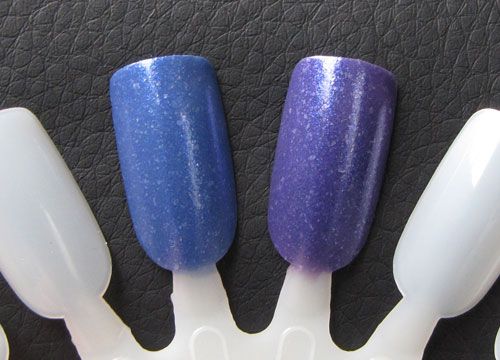 Basically, one is the blue version, and one is the purple version. I think Amethyst is going to be a quick favourite because of this similarity. Denim is a very popular piCture pOlish shade.
In terms of formula, Amethyst was a little tricky. Compared to Demeter, it was more watery, which made it harder to apply, and I had some opacity issues, especially on my nail tip. If I wasn't careful with my application I ended up with 'bald spots' that sort of looked like tip wear. I think this means it's probably best as a three-coater. I only did two but another wouldn't have gone astray. Despite this, it's not the worst polish I have used, not by a long shot, but Demeter certainly has the upper hand in the formula department.
Remember, these polishes can be purchased from the piCture pOlish online store and their respective stores only! Demeter can be found at Harlow & Co and Amethyst at Star Trinkets. If you're after any other piCture pOlish shades, check out their list of Network Members - these are ladies from all around the world who sell piCture pOlish to the lacquer addicts in their own countries, which usually means a saving on shipping when compared with buying directly from piCture pOlish. Ninja Polish also sell the brand and ship worldwide for very reasonable prices, but they aren't listed on the website.
Something else you should be aware of is that these polishes are only 11ml, rather than the standard 15ml that many polishes are. While this isn't a big deal if you're an addict like me and will probably never ever finish a bottle of polish, I have heard many people say, "I didn't realise they were so small."
Participating in the Blog Fest was lots of fun! Although I totally freaked out about my terrible nail painting skills and even worse photography, I think the experience challenged me to improve my blogging. I enjoyed the opportunity to try some new polishes, and I hope you've also enjoyed seeing photos of these new shades.
piCture pOlish website - http://picturepolish.com.au/
piCture pOlish Facebook - http://www.facebook.com/pages/piCture-pOlish-a-week-on-your-tips-never-on-your-hips/109841249041383
piCture pOlish Twitter - https://twitter.com/piCturepOlish