Today I'm wearing teal and white on my nails to help raise awareness of Polycystic Ovarian Syndrome, also known as PCOS.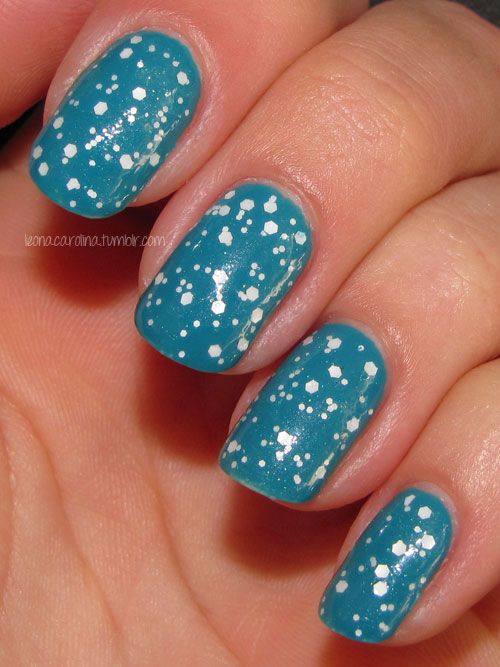 The teal is OPI Fly and the white glitter is Sonoma Nail Art Wine Country Wedding.
When a friend of mine asked if anyone would be interested in taking part in a mani day for PCOS Awareness, I jumped at the chance to be involved. You see, I possibly have PCOS myself - I say possibly as my initial tests were indicative of it, but further ones were inconclusive. I was always supposed to go back and get re-tested, but I haven't. Maybe it's time I did. I'm sort of scared to find out, and at the moment ignorance is bliss.
While every woman has different symptoms, PCOS can result in significant weight gain, an increase in facial hair, hair loss, depression and anxiety, irregular or extreme menstrual cycles, and infertility. It can be hard to diagnose PCOS as these symptoms are shared with many other health issues and some women go years without knowing they have it.
Check out these helpful links for more information about PCOS:
http://www.pcoschallenge.com/ - Support System to help women with PCOS
http://www.facebook.com/PCOSFoundation - PCOS Foundation
http://www.facebook.com/pcosfight - PCOS Awareness
http://www.facebook.com/pcosdiva - PCOS Diva
And take a look at the manis my friend's came up with for PCOS awareness: