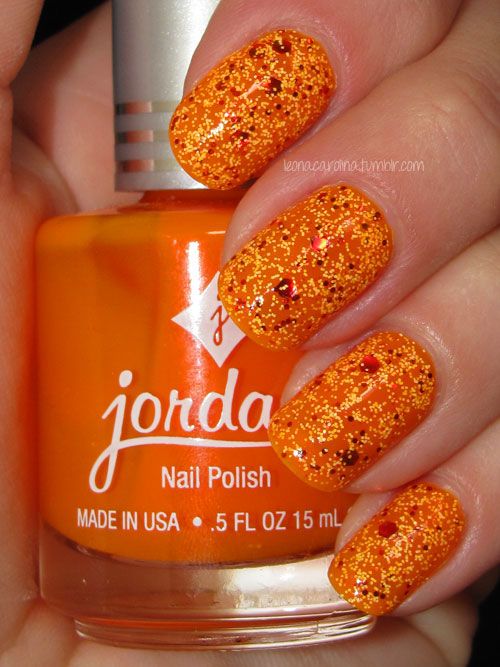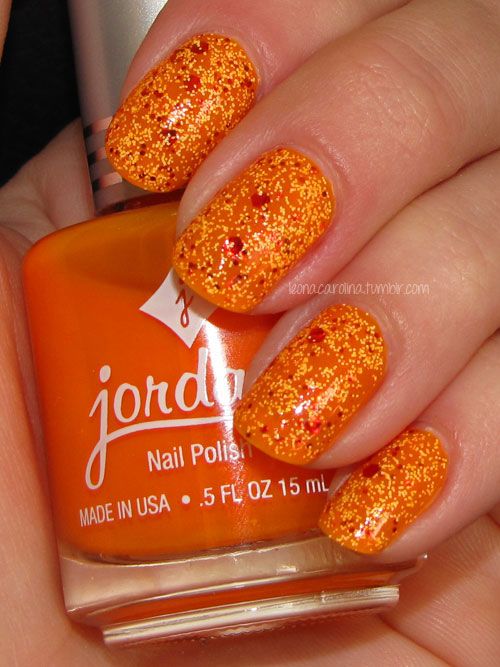 These photos show one coat of Pretty & Polished Phoenix over three coats of Jordana Orange Rush, with a coat of Seche Vite to finish.
Orange Rush is a sheer neon orange. I want to say it's a jelly, but it dries matte, so I'm not really sure what to call it. Can neons be jellies? I could have got away with just two coats here since Phoenix is so dense, but the more coats of Orange Rush, the more pigmented the colour is. On it's own, Orange Rush sort of looks like you've dipped your fingers in orange juice and it's stained your nails. It's a very "juicy" orange shade that leans a little bit yellow.
Phoenix is a gorgeous glitter polish with a mix of teeny yellow and orange matte glitters, and red metallic (regular) glitter, in two sizes. I bought a mini of this polish in Chelsea's most recent pre-order, as I wasn't sure if I'd like the mix of matte and regular glitter, but now that I've tried it out, it gets two giant thumbs up from me! Plus, Phoenix was named after Chelsea's daughter. How can you possibly dislike a polish made with that much love?
Keep an eye on the Pretty & Polished blog for updates regarding Etsy restocks.