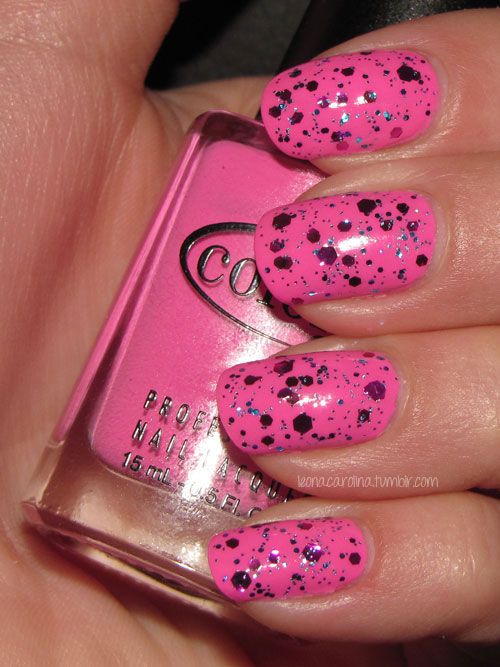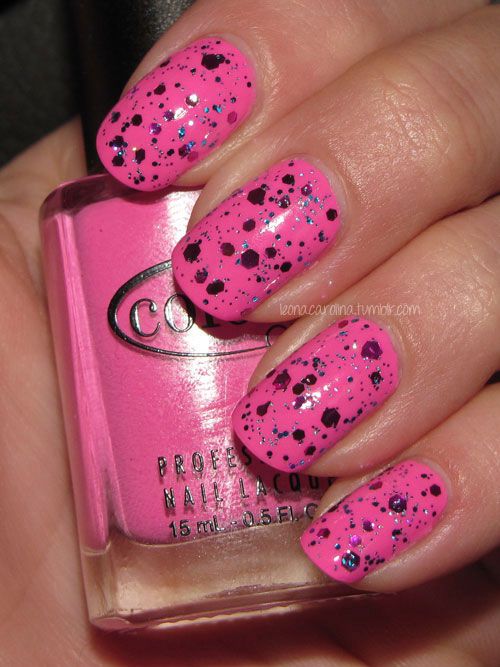 Today's NOTD is Color Club Peppermint Twist with Color Club Very Merry Berry!
Peppermint Twist is a bright purple-toned pink creme. The purple undertones really show through in low light. I received this polish in a giveaway from Nail Nerd a while back and I'm sort of embarrassed to admit this is the first time I've used it. It's a gorgeous colour and actually very unique despite my three helmer drawers of pinks. I have nothing quite like it.
This is two coats of Peppermint Twist. I think it dried matte, or semi-matte at least. I was half asleep when I did these nails so I'm not 100% on that! It was a bit of a pain as it dried quick, so thicker coats were better.
I added one coat of Very Merry Berry over Peppermint Twist. Very Merry Berry has two sizes of pink glitter as well as smaller blue glitter, also in two sizes. It is from their holiday collection last year, I think - there was a small range of scented glitters released. I assume (thanks to the name) this one is supposed to smell like berry but it smells more generically sweet. A little bit bubblegum, a little bit cotton candy. Nothing too strong though, and it pretty much disappears with a coat of Seche Vite.